NICEM ASC 10A-mini
Dryer&polishing

Description:
*Ensures consistent light Kit
*Patented circular tank with special coating
*Reduced noise, increased flow of cutlery
*Temperature probe the temperature adjustment and sustained vegetable particles
Product description
Nicem mini1500 tableware drying and polishing machines designed for drying and grinding tools, stainless
steel and silver designs.
Plant of the high absorbent particles (clean) recycle tank completely dry dishes. Adjustable thermostat,
provides for the continuation of dry particles.
Effect of ultraviolet drying and grinding can achieve very good results, without leaving any traces of water
droplets and reduces bacteria.
Benefits of drying apparatus and polishing cutlery:
*Drops traces-free
*Through the UV lamp-reducing bacteria
*Due to the lack of dust blower
*Reduce the cost of production and labour costs in drying and grinding
*Very low power consumption
*Dry and Polish tableware real time availability
*Patented circular tank has a special coating that reduces noise and improves flow of cutlery
*Excludes damage to dishware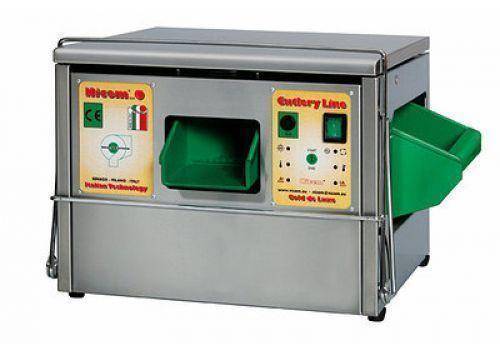 Dry and stainless steel and silver cutlery polishing machine
Patented vibrating circular tank with a rubber-coated grain vegetable products, heating cycle consists of a
constant temperature detectors, UV lamp and Proprietary technology integrated in the machine control,
ensures excellent results at an affordable price.
Innovation
Cutlery dryers offer foodservice outlets ideal solutions, dry, Polish and disinfection of tableware.
Experienced quality priority Has more than 30 years of experience preparing a machine manufacturing in
the field of tableware Nicem knows how to design practical, functional and powerful device.
Reliability
Nicem range of products provides the ultimate security, fully in line with EU requirements and carefully
selected materials and spare parts.
Health
Internal parts of the technology solutions of practical convenience and elaborate safety these systems is
a fully.
To meet the food
The best solution for security systems.
Ergonomic
Above or outside of the mini, in front of the middle section and the cutlery basket to reduce the space
required and simplify use of utensils entrance ramp.

Nicem advantage cutlery dryer
In terms of tableware
*Remove water stains
*Ensures consistent light Kit
*Reducing bacteria use UV lamps
*Dirt reduces marks
*Cost effective
*Lower operating costs and drying time
*Extremely low power requirements
*Real time Dinnerware

At the operational level
*Patented circular, noise-free tank in order to ensure that the sleek cutlery
*Twine, plugging or scratches
*Temperature probe the temperature adjustment and sustained vegetable particles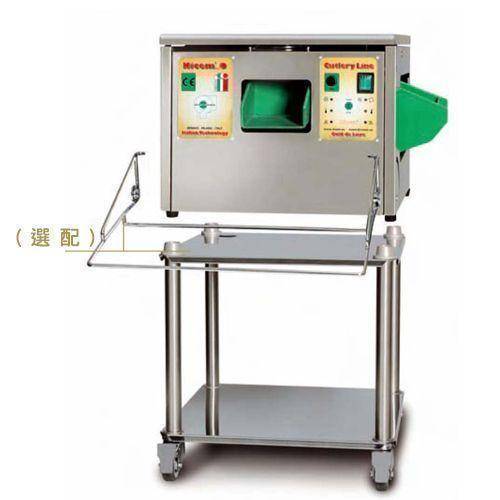 Technical specifications
Manufacturer: NICEM (Italy)
Maximum capacity: 1500 PCs/hour
Power: 350 Watts.
Dimensions: 490x450x340 mm
Power supply: single phase, 220 volt, 50 Hz