NICEM ASC 30A-Girl
Dryer&polishing

Description:
*Ensures consistent light Kit
*Patented circular tank with special coating
*Reduced noise, increased flow of cutlery
*Temperature probe the temperature adjustment and sustained vegetable particles
Product description
This equipment is designed for drying cutlery stainless steel and silver designs. Vysokoabsorbiru û ŝ IJ
recycling cans of granules of traditional Chinese medicine (pollution) is able to completely dry dishes.
Teng, an adjustable thermostat for drying granules. Influence ultraviolet-ray effect with good drying and
polishing, from dripping leaves no residue and reduce the number of bacteria.
Device for drying and polishing the overall organization is drying, polishing and disinfection of tableware
and innovative solutions. Overall for the SpA for more than 30 years of experience in the production of
these machines, you can introduce knowledge, drying and polishing cutlery to create practical, functional
and reliable equipment.
Device overall in line with generally accepted European standards. Service provides easy access to the
internal parts of the device.
In the model the girl at the front desk and optional load guides for tapes used for cutlery. The device is easy
to operate.
External structure entirely of stainless steel thick plate and Scrubs. Panel uses the patented folding rack
reservation support a tape dismount and tableware in modern handles
Lock springs. Including the former
rotating wheel antilock. Round tank tangents horizontal loading up at the patent. Wear suitable for food and
power network
Separation of polyethylene coating in contact ecogranulo. Electronic control panel carry out
general cleaning before inspection and maintenance operations. Six bright LED
Automatic operator of any
failure to provide all relevant information. Ultraviolet light to kill bacteria is cutlery of particles. Complete the final
cleaning tableware for fans.
Benefits of drying apparatus and polishing cutlery:
*Drops traces-free
*Through the UV lamp-reducing bacteria
*Due to the lack of dust blower
*Reduce the cost of production and labour costs in drying and grinding
*Very low power consumption
*Dry and Polish tableware real time availability
*Patented circular tank has a special coating that reduces noise and improves flow of cutlery
*Excludes damage to dishware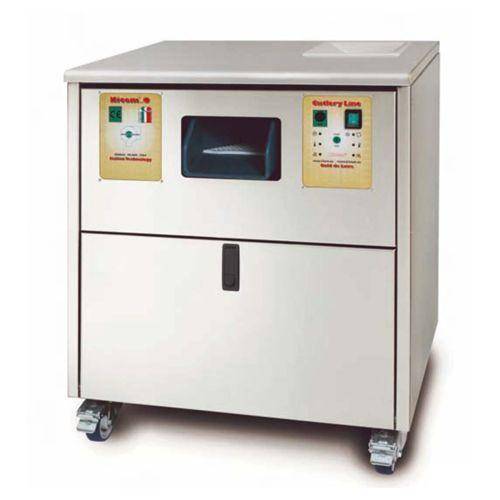 Dry and stainless steel and silver cutlery polishing machine
Patented vibrating circular tank with a rubber-coated grain vegetable products, heating cycle consists of a
constant temperature detectors, UV lamp and Proprietary technology integrated in the machine control,
ensures excellent results at an affordable price.
Innovation
Cutlery dryers offer foodservice outlets ideal solutions, dry, Polish and disinfection of tableware.
Experienced quality priority Has more than 30 years of experience preparing a machine manufacturing in
the field of tableware Nicem knows how to design practical, functional and powerful device.
Reliability
Nicem range of products provides the ultimate security, fully in line with EU requirements and carefully
selected materials and spare parts.
Health
Internal parts of the technology solutions of practical convenience and elaborate safety these systems is
a fully.
To meet the food
The best solution for security systems.
Ergonomic
Above or outside of the mini, in front of the middle section and the cutlery basket to reduce the space
required and simplify use of utensils entrance ramp.

Nicem advantage cutlery dryer
In terms of tableware
*Remove water stains
*Ensures consistent light Kit
*Reducing bacteria use UV lamps
*Dirt reduces marks
*Cost effective
*Lower operating costs and drying time
*Extremely low power requirements
*Real time Dinnerware

At the operational level
*Patented circular, noise-free tank in order to ensure that the sleek cutlery
*Twine, plugging or scratches
*Temperature probe the temperature adjustment and sustained vegetable particles

Technical specifications
Manufacturer: NICEM (Italy)
Production Max: 7,000 pieces/hour
Machine size cm: 65x60x79H
Maximum of productivity: 7000pz/h
Max size: 30 cm cutlery
Rated voltage: 230V single phase
Rated frequency: 50/60Hz
Rated current: 3, 2
Rated power: 610W
Net weight: 90kg