Hotmix PRO Creative
HotmixPRO Creative unique and irreplaceable feature is its ability to perform a variety of thermal engineering
up to 190 ° c (374 ° f) sugar (Such as creams, sauces and jams, avoiding the need for operator forced to
intervene several times to go to recipes to achieve a constant presence of innumerable steps) of Coker And
cool to-24 ° c ( -11,2 ° f) directly without intermediate steps in the process of preparing the same.

Easily you can put all the ingredients into the glass, due to the precise temperature control, to get the final
product, remember that your recipe is very simple and straightforward Way.
HotmixPRO Creative and continually mixing materials, both in heating and cooling in order to select the most
appropriate speed in order to get the perfect Implementation, each ready to chance.

The ability to set and maintain appropriate temperature will generate preparations without encountering
unnecessary repairs the loss of time for quality assurance.
Required by the most demanding professionals will use HotmixPRO Creative opportunities, improving each
individual preparedness, with machinery, is in fact able to Standardization the best recipes, and thus the
opportunity to consider, they repeat or even by the precise control of the quality of its staff.

Temperature is-24 ° c (-11.2 ° f) to +190 ° c (374 ° f) opportunities, allowing process, there can be no otherwise
with other devices.
Because of the HomixPRO Creative, you will be able to accomplish with ease of use and total quality due to
lack of time and staff, is difficult to achieve all of the Activities include the development of new recipes, as
well as many stores recipes, quite often, not all may exist, so you will be able to treat more easily and in
less time to achieve All reproduction, even now, seems to be more complex and sometimes impossible.

The doctor will therefore strengthen its lead their customers ' satisfaction. HotmixPRO is an innovative
multi-purpose machine of Creative, unique,Thanks to its special blades can work as a mixer of emulsified
liquid, or tool to paste any solid components.
In addition to this feature, users will find An awesome in heating and cooling systems, will enable them to
heat or cook any preparation by mixing with the required speed and range from-24 ° c (-11.2 ° f) +190 ° c
(374 ° f) temperature range. Equipped with a hydrophilic (1500W) engine, you can rotate the blade up to
12500 rpm, so that users can cut,Emulsification, blending or mixing quickly with any kind of composition.
Glass scales are also provided the opportunity to work in steel products up to 2 liters.

Due to the speed of HotmixPRO Creative, all tool-usually does not get above 3000 rpm-, can be used for
preparations can now be faster to implement,Without changing the identity and quality of the product.
12500 Rpm will allow you to shorten processing time and achieve a certain degree of refining to meet your
specific Demand for the products.


Unique! Set 22 functions in one
Boiling temperature up to 190 ° c (374 ºf), cooled to-24 ° c ( -11,2 f) and temperature can be under perfect
control This machine combines 5 key performance, cutters and mixers, professional ice-cream and
chocolate-making machine.
HotmixPRO Creative to be able to quickly and easily create raw and cooked recipes, liquid, emulsion,
even when they Cooling down in the normal structure, direct cooling to-24 ° c (-11.2 degrees c),
and the characteristics of food.

Effective, fast and there is a very easy cleaning!
HotmixPRO Creative can be used:
1、underscores the chef's creativity
2、optimized cycle time of food preparation
3、increase service efficiency
4、prepare food without cannot be applied to existing machines
5、for all food preparation may set a quality standard
6、win precious time, thanks to your own recipes e-store functionality, thereby avoiding duplication of
  any one The setting and avoids repeated preparation time.
7、machine, ensure the full recipe, put them through SD card memory component visualization on the
  display, thus Make it easier for any complicated recipes, pastry and ice cream
Double version of double capacity, Hotmixprocreative is a perfect tool for preparing large amounts of food,
Under the extraordinarily versatile, still makes it easy to handle holiday village, hotel and restaurant are
still on edge.
At the highest speed (12,500rpm) uses a special blade, is there some liquid can reach levels of shredding,
raw food Cooked food, comparison to other appliances is an impossibility, and can still maintain the same
material characteristics, and operators To choose your food and be able to select appropriate speed on so
many selections, until liquefied food to provide To the patient.
In addition, electronic storage options will ensure that any formula giving any patient requires differentiation,
thereby optimizing the preparation time, And to ensure a high and stable level of quality, each food easy for
everyone to eat.

Reliable and durable!
1、security cover and the use of motor brake electrical safety and integrity.
2、two temperature control systems directly to the motor, a static (thermostat) is one of innovation, by a
 microprocessor, Can automatically control the power/temperature themselves protect the motor itself.
3、painted metal structure.
4、shock absorbing feet from shock, electrical appliances have to stabilize at high speed.
5、according to professional norms to establish, and cooked in a suitable insulation.
6、low tension control.
7、IPX1 protection rate against dust are dumping rate.

Creative and profitable!
Hotmix Pro Gastro Twin enhances the chef's creativity and performance characteristics are not comparable,
also reduces the external Equipment purchases, and also be reasonable in the individual kitchens.
Work at a lower temperature-controlled and stable steel cups, Hotmixpro Creative
1、lower formation bacteria in meat processing
2、in the control of low temperature sausage (eg. Wurstel) and dough processing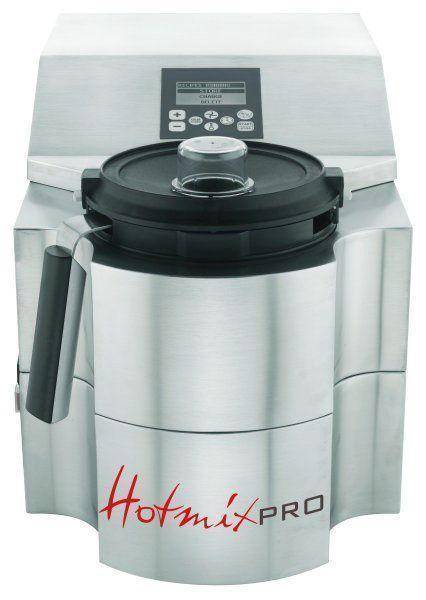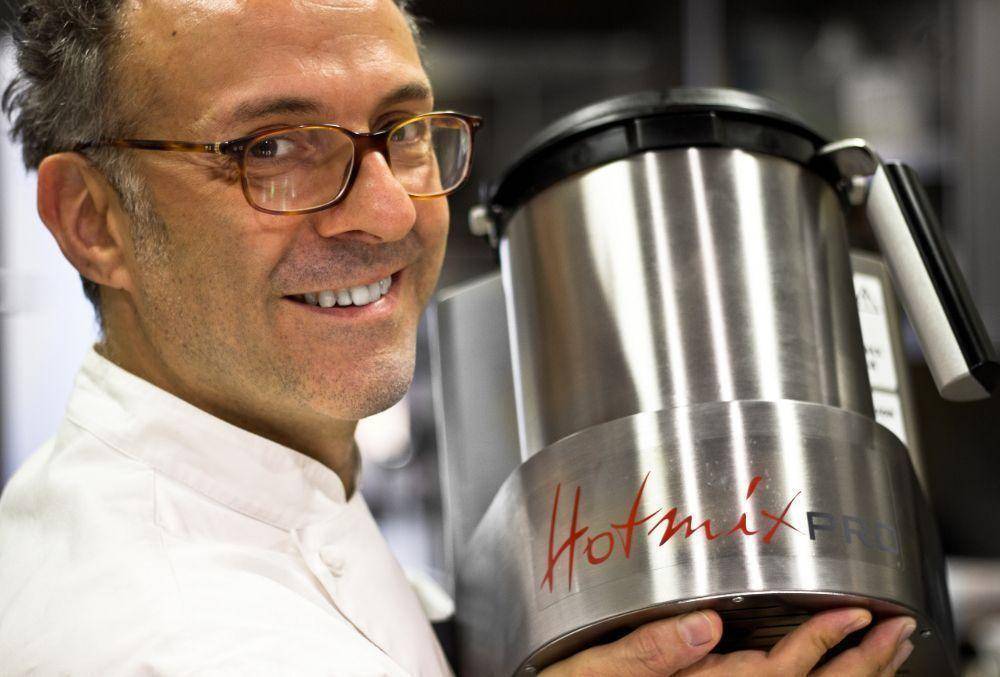 "Technical specifications"
*Automatic storage recipe:+SD Card
*Maximum temperature:+190 ° c
*Minimum temperatures:-24 ° c
*Motor speed:60 minute Max 12500
*Speed:23
*Special programmes:YES
*Computer diagnostics:YES
*Cup capacity:2 litres maximum
*Motor power:1500W
*Heating power:800W
*Freeze:NO
*Total peak power:2300W
*Available power:110V-> 240V
*Material:stainless steel
*LCD monitor:YES
*Accessories:mixing steel Cup*2, lid, measuring cup, mixing paddle,
        Blade, smear, special blades, steam basket.