PolyScience ® invention description to find new ways to express their creativity of the chef's cooking skills.
PolySciences core competencies in the design and manufacture of extremely precise temperature control
solutions.
This ability leads Reston Philip many years ago supports exploring the first creative video cooking sous chef.
Today, the best cook in the world rely on this technology.
PolyScience ® is the first choice for its technique of thermal cycling and many great friendships have been
developed since then.
His passion for futuristic kitchen equipment has also captured the United States's top chefs,
Like Grant Achatz of Chicago's assignment. As the impulse to chef Achatz, Philip develops Anti-Griddle ™.
In recent years added more innovative culinary tools, Philip · Preston continued commitment to new inventions,
Get cooking chefs to express their ideas more culinary ideas.
PolyScience® Sous Vide-Creative Series™
Professional chef cooking in vacuum vacuum cooking cooking series set the standard. Chef series development
of immersion Circulator is designed to meet the world Best Chef's request and control adds a whole new dimension
to your kitchen.
With its innovative, new features and award-winning design, Chef series immersion cycles were provided under the
harshest conditions and requirements Excellent results. The compact design makes for easy storage. Immersion
Circulator clamp to any round or flat pan or tank wall Can accommodate up to 30 liters (8 gallons) of liquid circulation
control in real time.

Vacuum cooking benefits include:
1. modern cooking an important technological innovation
2. familiar for precise, uniform
3. simple, no need to guess, quality standardization
4. Cook completed sustainable heat insulation
5. soft fleshy without hardening of proteins
6. fruit and vegetable juices are not lost, no oxidation

The vacuum cooking recipe provided by this Web site will allow you to gain experience from simple dishes to
the more complex. Once you are familiar with basic methods, you'll find these techniques how to easily transfer
from one project to the next. In addition, PolyScience provides a powerful tool for cooking time and temperature
reference chart and our vacuum Kit applications The iPhone and iPad. Using these tools, vacuum cooking
cooking methods to further develop your skills and understanding.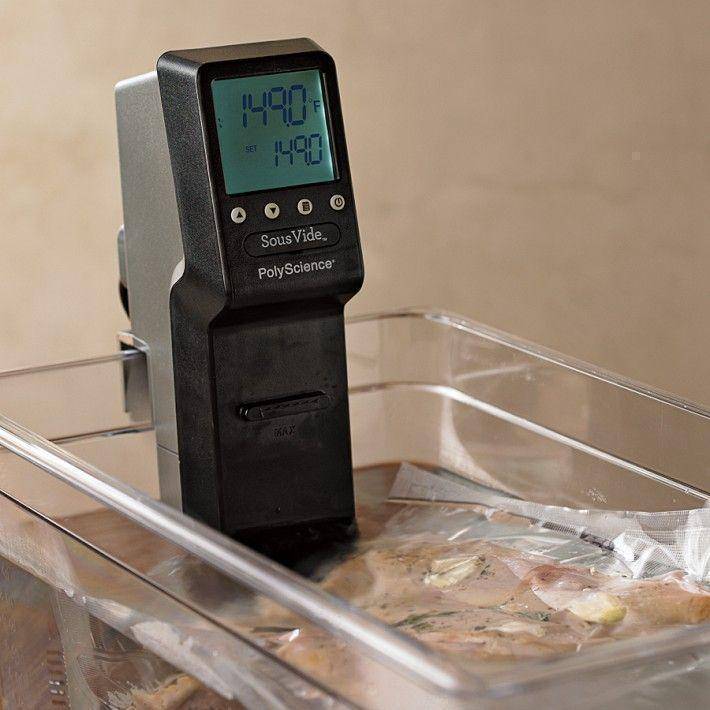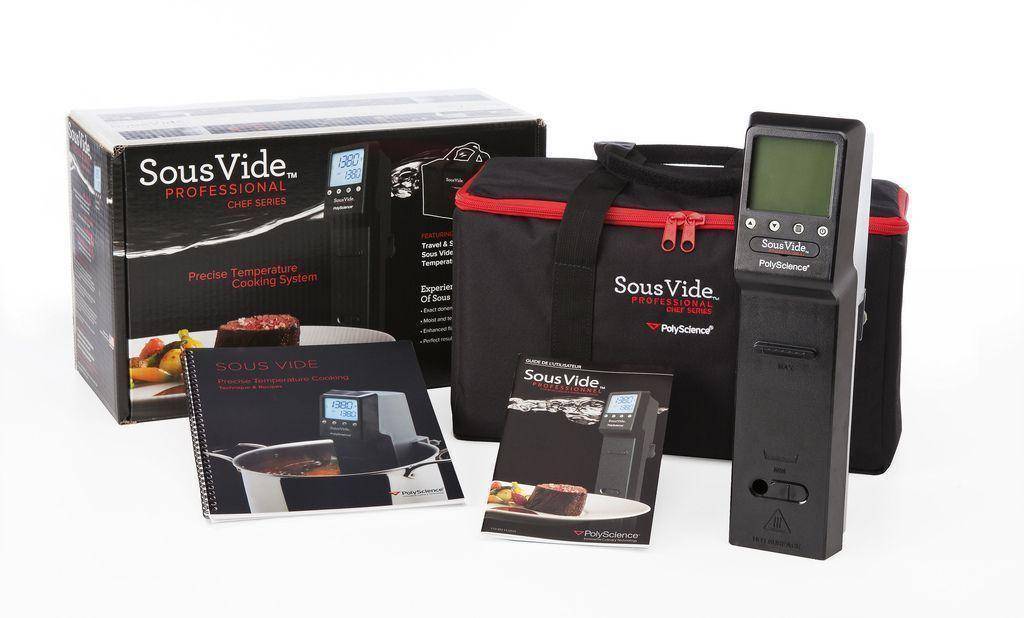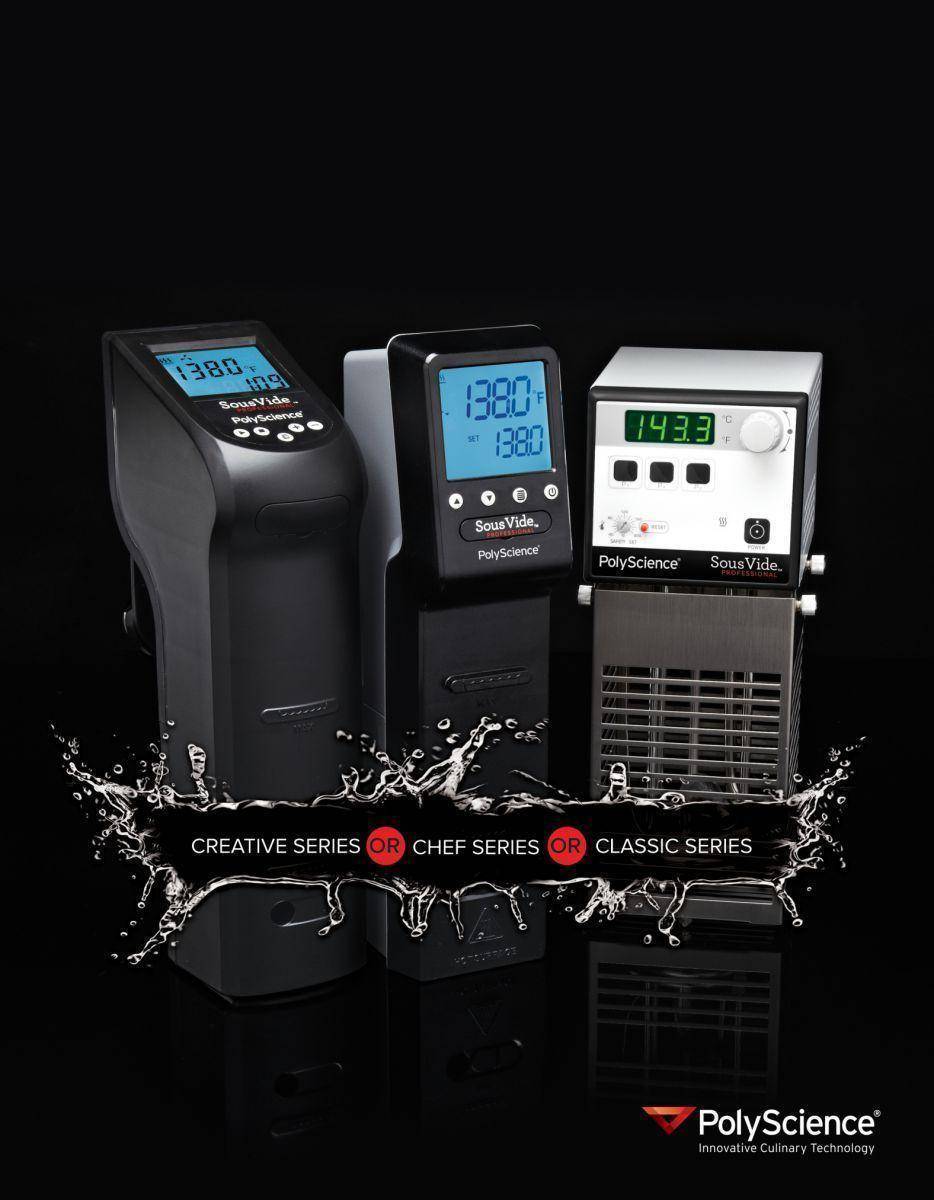 "Technical specifications"
Maximum volume brass: 30 liters (8 gallons)
Maximum pump output: 12 liters (3.2 gallons) per minute
Maximum temperature: 212 ° f (100 ° c)
Temperature stability: ± 0.13 ° f (± 0.07 ° c)
Heater power (120/240V): 1100 Watts
Flow control: Yes
Menu language and tips: English
The minimum immersion depth:/8.57 cm 3.375
Safety: temperature too low liquid level protection/security/alarm and fault indicators
Unit dimensions (HxWxD): 14.125 x 3.875 x 7.375 inches/35.88 x 9.84 x x18.73
Unit weight: 14.6 lbs/inch 4.1 kg
Packing size: 9/45.72 x 11.5 x 18 x 29.21 x 22.86
Shipping weight 12.75 lbs/inch 5.78 kg