SWISS ISTOR-DUPLEX

Description:
*Quick and easy
*FELCO Switzerland technical cooperation development
*Compact, lightweight, easy to clean
*Designed for the maintenance of gardens and tree
 shears, sickles and grass-cutting machines
*To remove small dents, Wu lightning

You will always need only blade grinders
ISTOR AG was founded in 1964 in Florida Switzerland cities. The family business was an inventor and the
original Switzerland Istor grinders, through Importer/manufacturer of the distribution network of distributors all
over the world.
100% Switzerland, Istor mill known as needed is an effective and very fast and easy to use a blade grinder
man. Switzerland Istor is very Versatile and most effective grinding scissors, cutter, pliers, chisels, and many
other commonly used tools, utensils, etc.
Dull knife and scissors are no longer needed to be discarded. Switzerland Istor blade grinders, who was sharp
again in a matter of seconds. Sharpening blades has become very convenient And can be done by anyone,
rotating left or right.
Sharpening tips for composition and shape of the secret is this: it is as hard as diamonds and excellent wear
resistance. Aluminium handle is extremely light, and provide excellent support for printing Signs and so on.
Switzerland Istor mill is guaranteed for five years against manufacturing defects, and can be considered a
partner for life.
New world market is our new sharpening and grinding tools, Switzerland Istor ® double-sided grinding in 1 2
functions. It eliminates all the nicks on the damaged blade,Sharpen blades of any kind within in a few seconds.
In Switzerland, and 100%!
IStor duplex Switzerland double sided grinders
Novelty! Unique grinding and sharpening tools craftsman!
End grinding with diamond-coated surface nicks or hit a professional iStor carbide tool blades and other features.
Grind and sharpen all damaged blades. Ideal for use in the garden, farm and workshop. Especially with garden
shears, pruning,Sickles and larger garden tools maintenance. In addition, the two-sided Planer is equipped with,
can be used to remove scratches and bruises to a blade diamond coating Plate sharpening device. Cebian uses it,
gently grind out nicks and burrs in rotation or linear movement, hold it in the desired tilt angle.
About the proposed terms below for different uses.
General characteristics
*There is no need to pressure
*There is no Burr blades
*Cutting edge remainings sharper for a longer time
*You can use both right-handed and left-handed people
Sharpening (we recommend the bevel angle as follows)
*Small cutting and slicing knife 15 °.
*Butcher knife knives dwelling 15 °-20 °
*Outdoor and common tools 20 °-25 °
When sharpening scissors, trimming and pruning shears, only sharpen cutting blades, rather than anvil blades.
Recommended grinding angle:
Project

Single-Cone

Double bevel

Recommended taper corners

Small kitchen knives

×

15° - 20°

Peeling knife

×

15° - 20°

Slicing knife

×

15° - 20°

Bypass pruning shears

×

23°

Pruning shears anvil

×

15°

Scissors

In accordance with the existing beveled
IStor advantages on both sides of the grinder
*Double feature: sharpening and grinding in one unit.
*Sharpening are similar to a professional model, with diamond grinding on the other side side of the section.
*FELCO Switzerland technical cooperation development
*Designed for the maintenance of gardens and tree shears, sickles and grass-cutting machines.
*To remove small dents, fast as lightning.
Application
*Knife
*Scissors
*Serrated knife
*Food processing blades
*Pruning shears.
*Most items with blades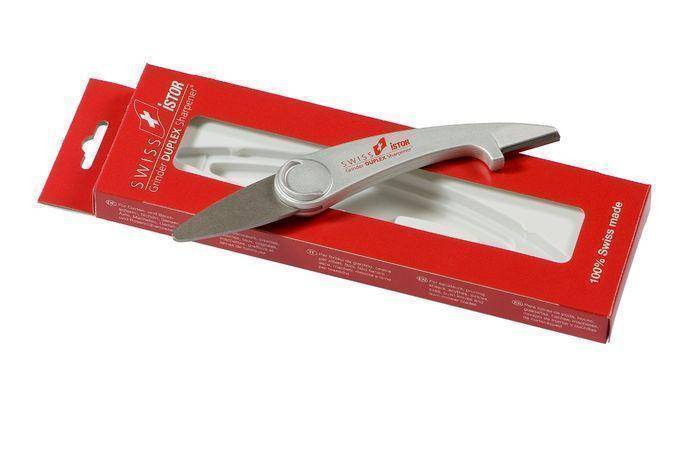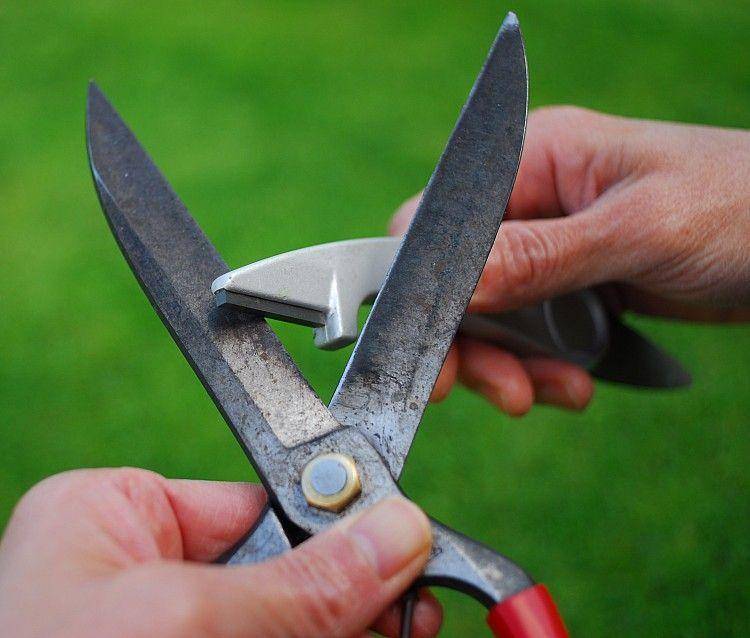 "Technical specifications"
Length:19cm
Weight:94 g