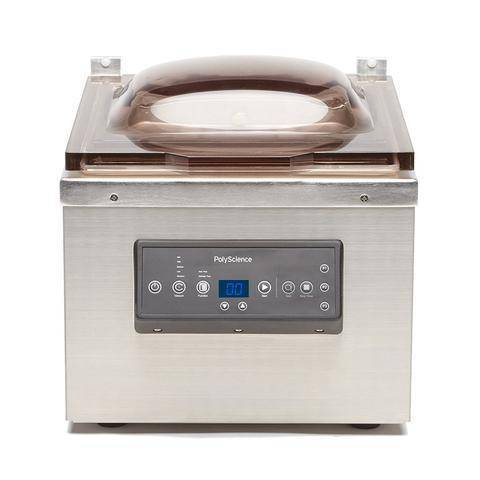 Maintenance-free design provides professional-level features at a home cook's price.
Excels at vacuum sealing both dry foods and liquids such as soups and stews
Operates at the simple push of a button
Three preset buttons can be programmed to provide the exact vacuum levels, vacuum hold times and seal times for meats, fish and even infusions
A built-in marinate cycle broadens your abilities even further
Space-saving stainless steel housing ensures durability even under the harshest conditions
External vacuum port lets you vacuum seal both bags and canisters
The large 13.8 x 12 x 4.3 in / 35 x 30.5 x 11 cm chamber accommodates expanded pouch sizes
Includes:
Vacuum Sealer
Six one pint (0.43 l) vacuum bags
Six one quart (0.95 l) vacuum bags
Six one gallon (3.79 l) vacuum bags
For household use only.
Winner of StarChefs Innovator Award
Keep food fresher, longer in the refrigerator, freezer or pantry by vacuum sealing. Vacuum sealing eliminates waste, reduces food cost, makes meal preparation faster and easier and enables stocking up on sale or bulk purchases.
In addition to the benefit of vacuum sealing, chamber vacuum sealers prevent oxidation and loss of color, taste, flavor and nutritive value. Pickle, infuse and compress ingredients in seconds. Marinate meats and seafood, before cooking sous vide in a fraction of the time. Compressed watermelon takes on the look and density of sushi grade tuna. Cucumbers brine in seconds, preserving their crispness and vibrant green color. Infuse pineapple with dark rum for an extra punch in your summer cocktail.
Other uses for vacuum sealing include:
Protecting valuable keepsakes and important documents
Preventing liquids from spilling
Stop silver and jewelry tarnishing
Store collectables safely
Secure camping and other outdoor items
<p style="text-align: center;"><iframe allowfullscreen="" frameborder="0" height="315" src="//https://youtu.be/SSB780W9BYY" width="560"></iframe></p>